This fall, both Caroline and Carter are playing soccer. Which means this: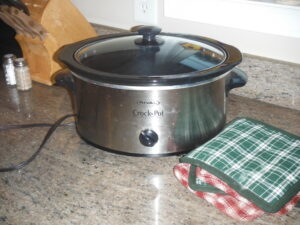 is now a permanent fixture on my countertop. And I'm okay with that.
The crock pot did get a break this summer. Summer schedules aren't quite as crazy, and the grill gets a work out this time of year. The crock-pot was sent to its bottom cabinet space behind the waffle maker and the back-up toaster. But now it's out again, and probably will stay out through the winter.
Bill and I got this crock-pot from one of his aunts as a wedding gift 13 years ago. And being young and naïve, I thought crock-pots were only for an older generation. After all, pot roast with carrots and potatoes wasn't quite in my lexicon. So the crock-pot got put in a cabinet, and rarely saw the light of day.
Until now. I use it so much that I don't even bother to put it back in the cabinet.
I really fell in love with the crock-pot two years ago, when Craig began living with us full time. Between his after-school sports and the smaller kids' sports practices and games in the early evening, this appliance was my go-to for meals that would easily feed our family of five with the flexibility we needed.
Craig is now in college, but that doesn't mean our evenings are any less intense. Caroline's soccer commitment now includes two evening practices, in addition to Carter's one, and of course they are never on the same night. Add to that piano lessons, church on Wednesday night and Bill sometimes working late, and we're back to where we were Craig's senior year.
One of the benefits of working from home is that I can put the recipe together during the day when things are not so busy, turn on the crock-pot, and leave it to go back to work. Whenever we get home from evening activities there's a warm meal waiting to be put on our plates. But even for moms who work in an office, a crock-pot can be a real time saver. Just look for one that's programmable, so you don't have to worry about your food over-cooking.
One thing I have learned through my seasons of sports and crock-pot meals is that it is important to expand beyond pot roast and chili. While those are two great crock pot staples, they're not good options to have on a weekly basis. We've tried a few that we might never eat again, like the pork chops with red peppers and dried fruit. But we've also tried a few that are in the regular rotation, thanks to this book:


1,001 Best Slow Cooker Recipes. A fellow crock-potter tipped me off to the free download last year, and I experimented with a few new recipes last winter.
And now we've got a new one to add to the list: Northern Beans with Turkey Sausage. It's something I cobbled together on my own last week. Everyone ate it, and for the first time ever, I made beans that actually came out with flavor.
Here's the recipe. I think I'll be trying it again this week. We'll see if it ends up just as popular the second time around.
Ingredients:
1 lb of dried Great Northern beans
1 lb of turkey sausage
1/2 small onion
1 Tbsp olive oil
Dried thyme and pepper for seasoning
If you like to soak your beans, start the night before. I didn't soak mine last time, but probably will in the future. Rinse and sort through the beans, then put them in a pot to soak overnight.
Drain the water off, and put the beans in the crock-pot. Brown the sausage (cut into 2-inch sections) in the olive oil on medium heat. Add that and the onion, thyme and pepper to the crock-pot. Cover to about one inch above the beans with water, then cook on low for 6-8 hours.