Two things happened on Tuesday that made me think about books and reading.
First, the kids and I went to Barnes & Noble to spend our Christmas gift cards. It was a teacher work day, and what better way to spend a day out of school than surrounded by books? This might sound strange to some of you, but it was the first time I had taken kids had been to Barnes & Noble, and it was absolutely magical. Don't get me wrong, it's not like we don't have books in the house. Since they were born we've patronized our local library, coming home with piles of books after each trip. We're also lucky to have a great local bookstore in Diana's. But there's just something awesome about walking into Barnes & Noble. Rather than being overwhelmed, the kids seemed to feel immediately at home. Caroline was back and forth between young readers and young adult, Carter found his special place in the non-fiction section on art.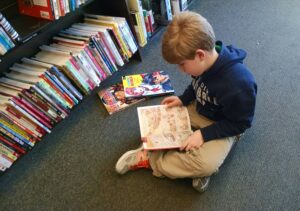 I drove home feeling so excited about the fact that my kids spent two hours in a book store and still weren't ready to leave.
Then, that night, I was involved in a conversation on Facebook where a friend from college mentioned starting an online book group, and I flippantly remarked that I might join, but I wasn't sure I had time to read the book. Of course, the immediate response was, "Karen, there's always time to read." That got me thinking. She was right. There's always time to read. After all, wasn't that what I was trying to teach the kids? Wasn't that why we spent our day out of school reading books and finding more things to read?
The thing is, I don't have the time to read that I used to. When I was younger, when people asked me what I liked to do, my answer was always "I like to read." And I devoured books. But now, I have a pile of novels by my desk that I want to read, and while I am slowly making my way through them, the pace frustrates me. There's always a meal to cook, laundry to do, dogs to feed, or floors to sweep. It seems like as soon as I sit down with my book, someone yells, "Mom," and my train of thought is broken.
But I truly believe the way encourage a love of reading in our children is to be readers ourselves. So even though my nose isn't in a book 24/7 like it used to be, that comment on Facebook led to personal reflection, and I realized that rather than worrying about the novels I'm not reading, I should be paying attention to the things that I am reading. Once I thought about it a little, I realized, I am reading.
Here's what's on my plate right now:
Entertainment Weekly. Magazines seem to be a great answer to what to read when I only have short periods of time. I like the reviews and the writing in this one. It joins Redbook and Rachel Ray with the three subscriptions I keep renewing.
The Wilkes Journal-Patriot. I've always been a proponent of reading the local paper to stay up with what's going on in the community, and I'm very pleased with how this paper reports on local news. They have a great editorial page as well.
The Presbyterian Church's Book of Order. I was given this book when I joined the session, having recently been elected to serve as an elder. My father used to refer to it all the time, and I always thought it was just a boring list of rules. Which, technically it is, but it's also enlightening to see how the Presbyterian Church is laid out and get a clear picture of the denominations' guiding principles.
The Japanese Lover, by Isabel Allende. No explanation needed on this one, it just happens to be the novel of the moment for me.
The Tales of Uncle Remus. I read to the kids before bed, almost every night, and a couple of weeks ago I decided to go for something a little different. It started with me pulling out my Norton Anthology of American Literature. We read Mark Twain's short story, "The Celebrated Jumping Frog of Calavaras County," and the next story was "Tar Baby," which they convinced me to read, probably mostly so they wouldn't have to go to bed. Both of them laughed so hard that I got the book of stories at the library, and it's been a fun read.
I think that many of us grow up thinking that when you say you love to read, that means you read novels, or classic literature. But you don't have to read novels to love reading. Read the news. Read magazines. Read instruction manuals, self-help books, motivational works. I think that's what makes a trip to Barnes & Noble so inspirational. It reaffirms that reading is for everyone. No matter who we are or what stage of life we're in, there's something out there that will pique our interest and expand our minds. And hopefully foster a love of reading.