Last week I had the opportunity to visit Bethabara Park with Carter's class on a field trip. I am ashamed to say that it was my first time there. It is a wonderful place, full of local history, and I am sure we will be back.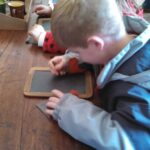 The first graders went to Bethabara learn about the history and culture of the first settlers of our area. They got a first-hand look at what lives of children in the late 1700s were like, from writing on a slate during school lessons to peeing in a chamber pot in the middle of the night. Interspersed within those life lessons were stories of Christmas traditions practiced by the Moravian settlers of Bethabara at that time.
Of course, living somewhat near Winston-Salem for many years, I'm very familiar with Moravian stars and the wonderful spiced Moravian cookies. But I even learned some new things on this trip. Christmas trees weren't a part of the traditional decorations at this time, but the symbolism of evergreens wasn't lost on the Moravians of Bethabara. Juniper, holly and pine decorated the window sills and mantles, bringing cheer and good smells to the home. Families also put out a putz, a pyramid-shaped, shelf-type construction that was the setting for a nativity scene, candles, more greenery and Bible verses. This was central to the Christmas decorating, and a way to help tell the Christmas story to children.
One thing that hit home after this trip was just how hard life was for these early settlers. During the cold, dark times of December they were hard at work chopping wood to stay warm and cooking meals over an open hearth. Yet they still found a way to bring the traditions of their homeland with them, from the story of the birth of Jesus told through a putz to the warm gingerbread that brought happiness to the children.
After our trip to Bethabara last Friday, we enjoyed a weekend full of Christmas traditions at the Alley home. We have plenty of traditions in our own household when it comes to Christmas. I am definitely a tradition-oriented person, and while I do things like make Christmas cookies and play Christmas carols because we've always done it, I also do it because of the warmth and comfort these traditions bring. Just like the Moravians, keeping up our traditions is a way of passing on stories and knowledge to our children, whether it's about your family, your culture or your faith.
The kids and I made gingerbread men (and girls and pirates) together. I like to include the kids when I am doing things in the kitchen year-round, but rarely do we ever get a chance to be as creative as when decorating Christmas cookies. It's something my brother and I looked forward to doing every year with my mom, and it's a tradition I love sharing with my own children. I just make sure to allow plenty of time and store up some patience, that way we can all have fun.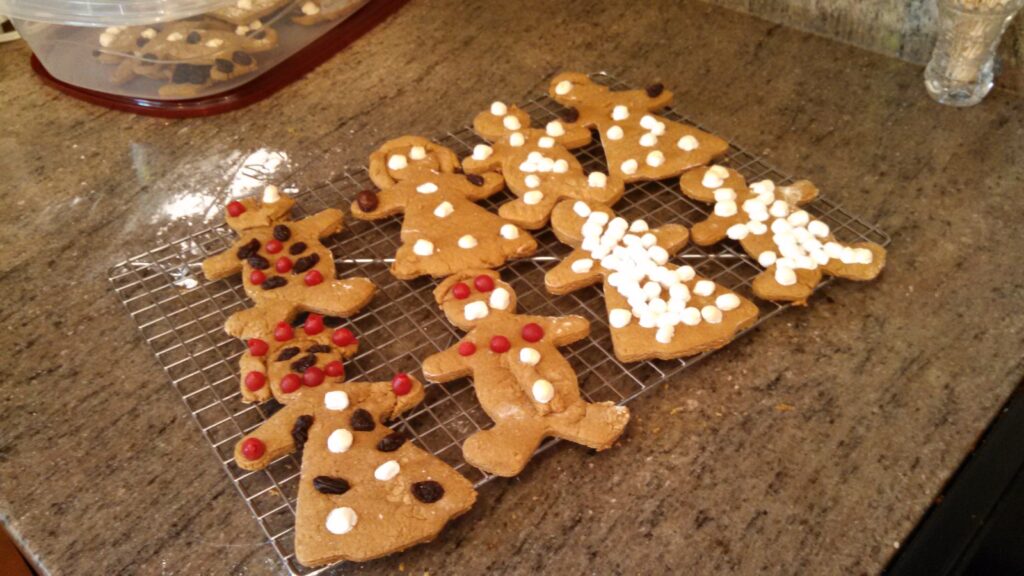 While the gingerbread cookies were getting adorned with goodies, Bill was making his annual batch of buckeyes. Like the Moravians, who were celebrating traditions of their homeland while making a life in a new land, Bill has brought an Ohio tradition to our North Carolina-born children. I had never had buckeyes until I went to Bill's parents for Christmas the first year we were married, and they are wonderful. They are basically homemade Reese's, shaped in a ball. They look just like the nuts from a buckeye tree.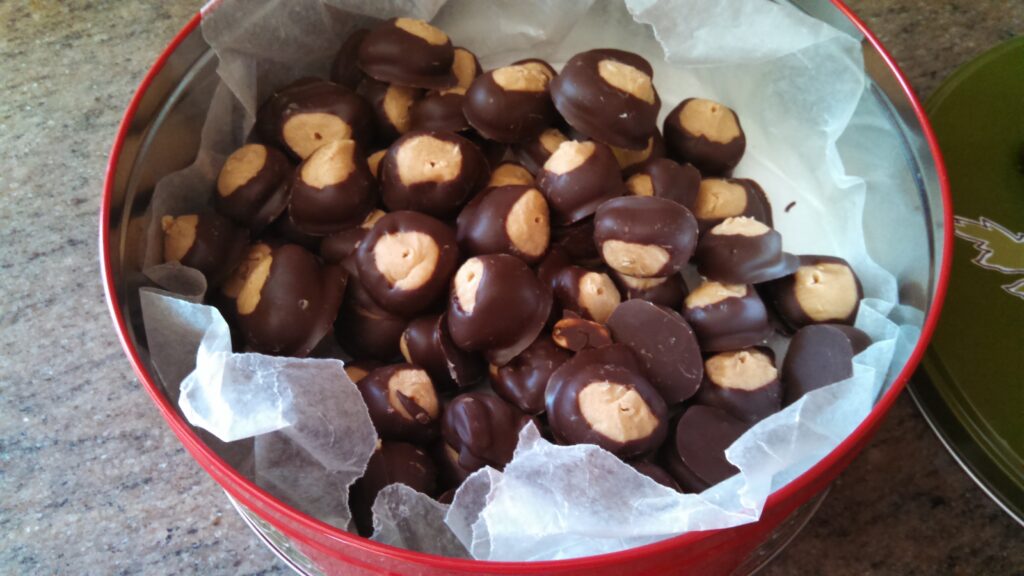 Making candy is a long, and somewhat complicated process, one that Bill often does on his own, with us keeping him company of course! But the kids have been able to help dip the peanut butter balls in chocolate for the past few years, which is always an exciting and somewhat dangerous endeavor. And I imagine that in a few years, Caroline might just take over the buckeye-making process.
Christmas cookies and buckeyes are just two of the many family traditions Caroline and Carter will have to pass on to their children. I can only imagine the stories they will tell their kids while baking together of the winter afternoons spent in the kitchen with "Grandma Karen" and "Grandpa Bill," helping shape yet another generation in the ways of the family.