My kids are in the first and fourth grade. Which goes without saying, I've been on my share of field trips over the past few years. We've gone to farms, Grandfather Mountain, the North Carolina Zoo, Catawba Science Center, and the Winston-Salem Children's Museum, just to name a few. For all of them, I was glad I had been sometime before in my life, because when you go with a bunch of kids, all but one that aren't yours, you spend most of your time counting heads, shepherding little ones in and out of the bathroom, making sure hands are washed, and passing out lunches. Sure, you are along for the tour or exhibits as well, but it's really hard to give it your full attention when making sure an errant kid doesn't wander off, or constantly shushing a couple while the tour guide is talking.
Last week, I got to go on a totally different kind of field trip, and I really enjoyed myself. My garden club, the Yadkin Valley Garden Club,  took a field trip for our May meeting. We went to the Gardens at Old Salem,  where we were led on a tour by the gardens' horticulturist, and then we all enjoyed a nice lunch at Salem Tavern.
I say it was a field trip because that's exactly what it felt like, probably because I've been on so many lately. We walked together as a group, and were taught a lot of interesting things along the way. But this time, I got to listen! Instead of being in charge, and having to worry about other people, I was part of the group. It felt somewhat decadent. Now I see why kids get so excited about going on a field trip. If we're honest, they're don't really care so much about where they're going. They just know that it's a day when they're not sitting at school at their desk, and they get more of a chance than usual to socialize with their friends. And that's exactly how I felt in Old Salem, a little like I was playing hooky from work (although I had worked hard the two days before to be caught up enough to miss a few hours that day), and excited to be going somewhere new with a group of friends who share the same interests.
Hopefully, in the end the result is the same for the kids as it was for me. Even though they're all just glad to not be in school, I like to think that they learn something on these field trips they get a chance to go on. I certainly did. Here are a few of the things I picked up at the gardens:
Diagonal rows. My garden is about the same size as one of these garden plots. I've always planted things in horizontal rows, just because that's how I've seen other gardens. But the Moravians planted diagonally, and it makes a lot of sense. The tour guide said they aren't really sure why, but their best guess is because it allows you to have more space for crops that you need/want more of. For instance, if you put green beans in the middle they get the longest rows, and things like radishes and chives can be in the corner where the space is smaller. I might just try this next year!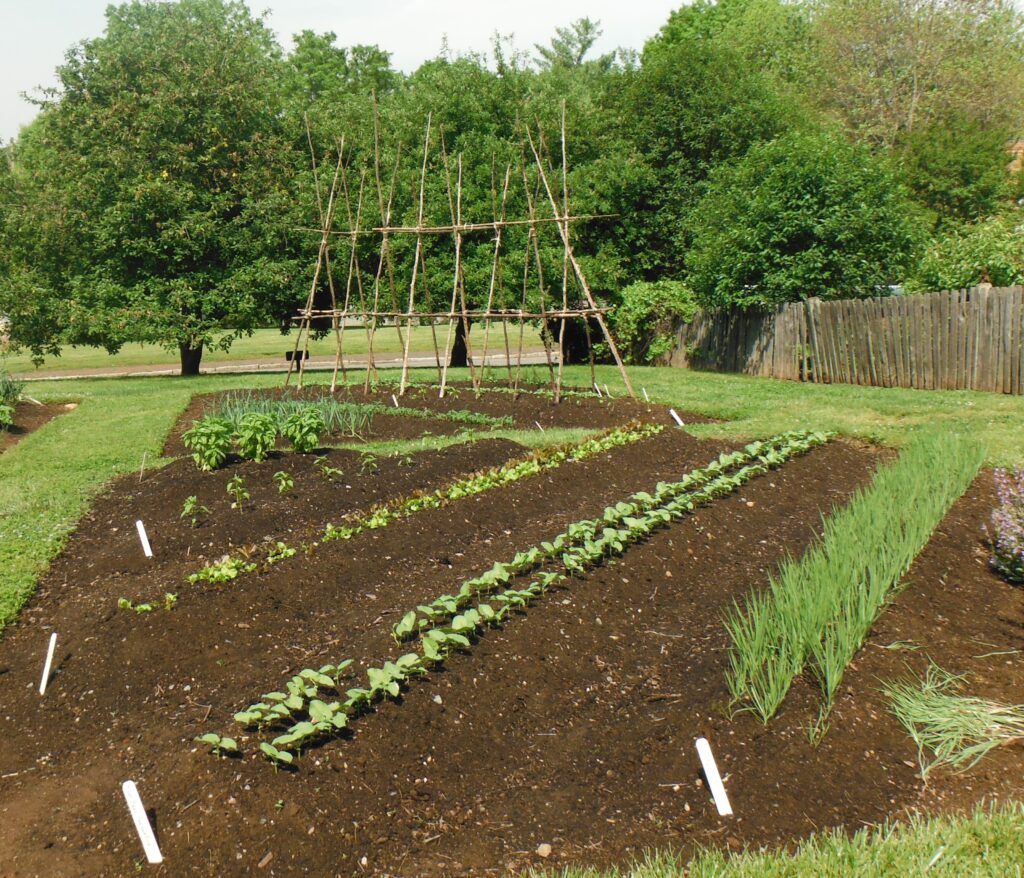 Flower gardens full of native plants are beautiful. They only grow things that are native or would have been planted in Moravian gardens during the mid-1800s, which means no big, bright Gerber daisies, and very few of the colorful annuals we find in gardens today. But the delicate blooms of the columbine and ragged robin made quite a wonderful combination.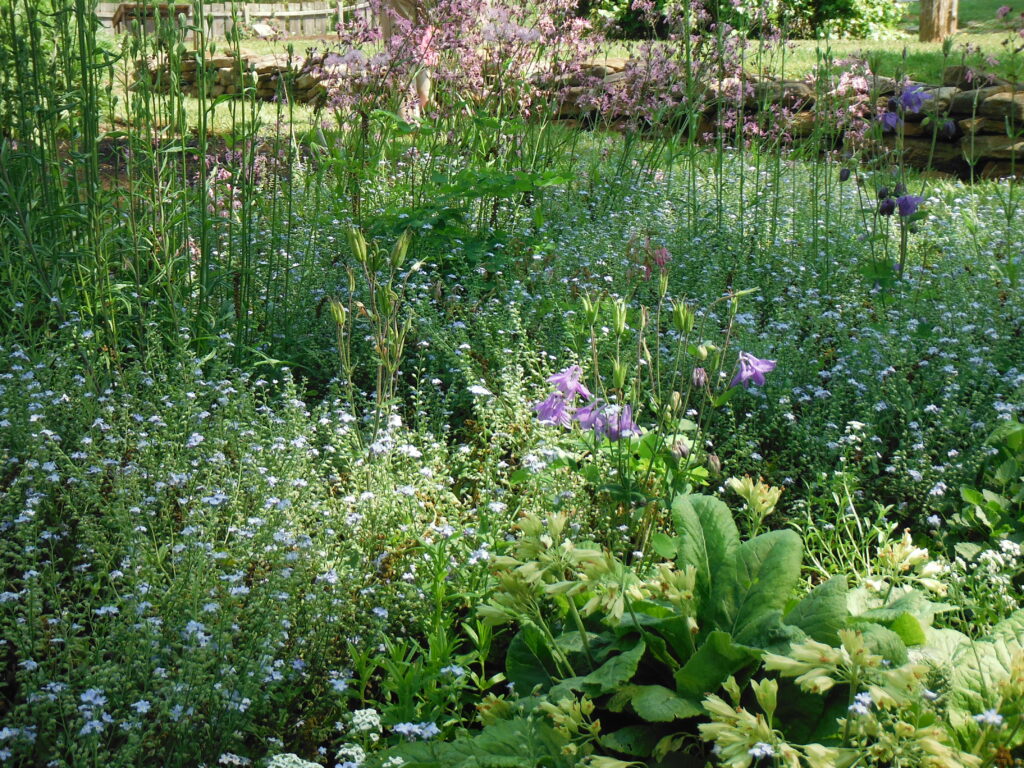 Winston-Salem has a lot of interesting history to share. We only took part in the garden tours, but did get to go inside one house where a woman was cooking chicken soup over a fire, with greens from the garden. Someday I want to go back to Old Salem, with my kids, and do the whole tour, where you learn how the Moravians lived when they first settled here. It really wasn't that long ago when you think about it, and it's fascinating to stand in the historic gardens, looking up at the skyline of the city that has grown up around the settlement, and think about how much things have changed just in a couple hundred years. Those moments of reflection are something I would never have a chance for on a field trip with first graders!