When I was in the 8th grade, my class trip to Raleigh included a stop at Four Seasons Mall in Greensboro. I will never forget overhearing one boy exclaim in excitement about his first ride on an escalator. Having lived in Atlanta as a child, and traveled with my parents to other cities, escalators were no big deal to me.
Now I am a parent, raising my children in a small town. We moved here because we like the sense of community a small town affords, the absence of big-city problems like traffic and crime (well, there is crime here, but not in the same volume) and the opportunity to hike in our own woods and fish in our own creek, among other things. But I am fully aware that there are disadvantages too, like the fact that our community is pretty homogenous, and opportunities to experience the arts are few and far between. I don't want my kids to be the ones who go on a field trip and have never ridden an escalator. A few years ago one of my friends reassured me that wouldn't happen, because as a parent I would make sure to expose them to a variety of things.
And she was right. At least I hope so.
One of those opportunities came last weekend. Bill and I took our kids to the Winston-Salem Symphony Orchestra's performance of Peter and the Wolf, part of the Discovery Concert Series for Kids. It was a great event. They had activities before the concert that included an "Instrument Petting Zoo" where Carter and Caroline each got to try their hand at playing the violin, the cello, the flute, and the clarinet. And we got to experience the world premiere of The Wild Woods, a piece commissioned by the Winston-Salem Symphony written by a young and very talented composer, Viet Cuong. That was a very modern piece, with lots of atonal music and interesting rhythms. I can't say the kids appreciated it as much as I did, but between that and Sergei Prokofiev's family friendly music, they got a good introduction to the symphony in a concert that was appropriately kid-length.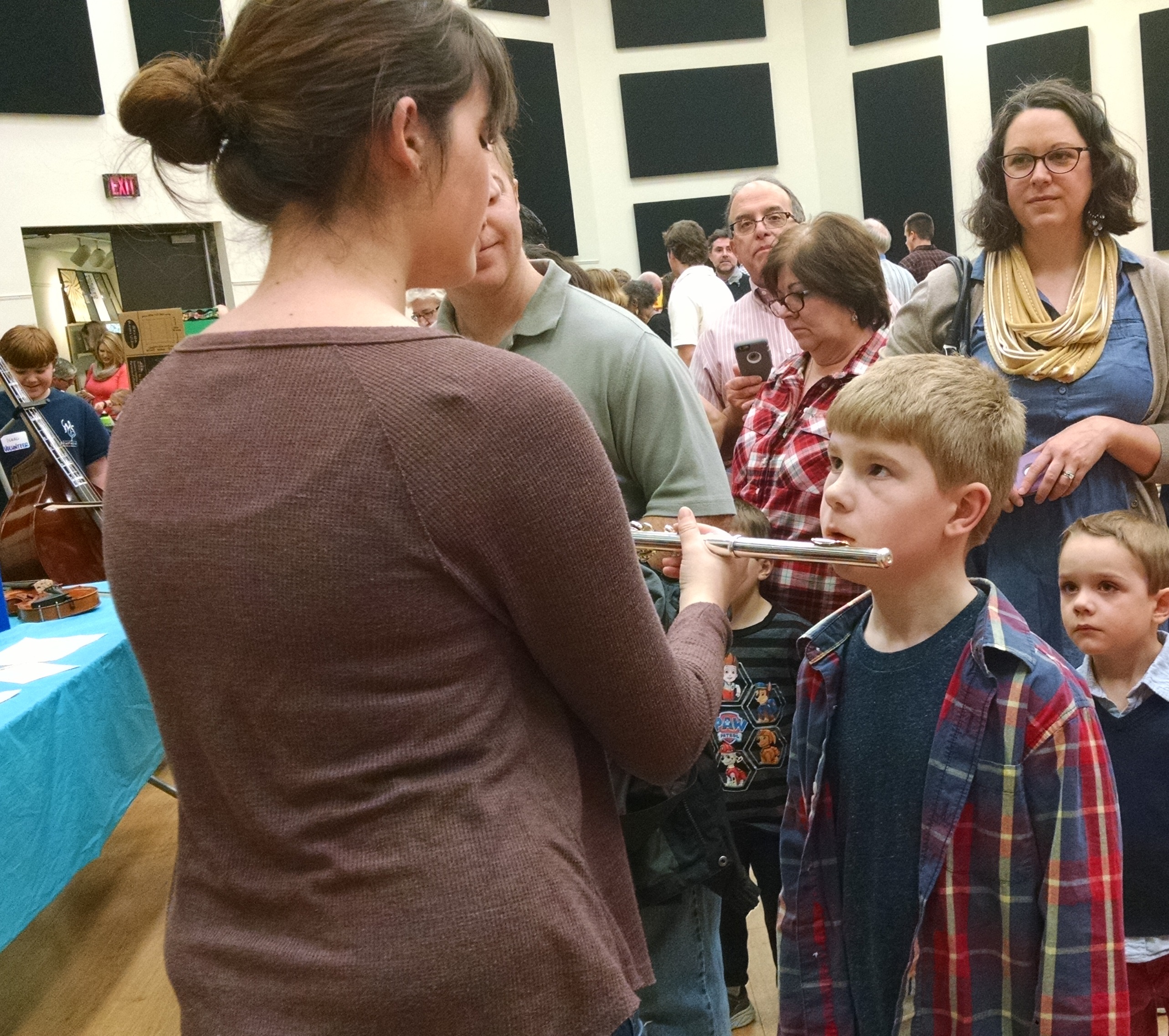 We topped off our day with a trip to Hanes Mall and dinner at the Village Tavern.
On the way home, I talked about how much fun we had, getting out and doing all those neat things today. And Carter piped up from the backseat, "Yeah, I got to ride an escalator four different times."